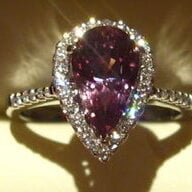 Joined

Jun 29, 2008
Messages

10,228
After months of deliberating, I've finally had my FCD bracelet made. I originally took 17 diamonds to my jeweller but during the course of discussion we decided to narrow it down to 7 and use the other 10 for a pair of earrings. The earrings will be made in August and I've already worked up a design but for now here's the bracelet!
Each FCD is about .25ct (or thereabouts) and all are natural not irradiated. The clarity is not the best on some of them but it's the colour that attracted me so I can forgive the lack of clarity!!!! In the sunlight these all sparkle like made - suprisingly, the olive green ones pack the most punch (sparkle wise) but the yellows look an almost acid yellow and really stand out!
I've chosen 14k white gold mixed with palladium to achieve a high white look and also withstand daily wear. I also wanted a design that showed the different shapes but also gave as much protection as possible and as this is a daily wear bracelet I didn't want it to be too ostentatious (hence the decision to only use 7 diamonds)! I normally wear bracelets much looser than this but the jeweller said any looser and it will flip over - he was right as this doesn't flip at all although I'm having to get used to wear such a snug fit! It is loose (despite not looking like it in the photo) though.
The bracelet is all handmade and the bezels are not as good as they could be but that's only apparent when you are closely scrutinising! Clockwise from just after the catch: radiant yellow, olive green pear, radiant purplish pink, orangey marquise (has darkened now it's been set
), olive green radiant, yellow pear, light pink round.
Forgive me but photographing bracelets is a challenge and these are the best shots I could get!