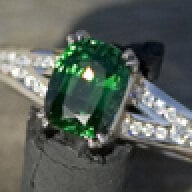 Joined

Aug 3, 2006
Messages

9,613
Wasn't sure if you know about it, or would be interested, but as part of this year's Gem-A Conference on November 6th, there is a lecture on the original 'Paraiba' tourmalines by Brian Cook from the US - the other 6 lectures are all pretty good as well.
If you are interested in going then have a look on Gem-A's website.
Added bonus - I'm there too!

I'm sulking somewhat because I had a chance to go to a private view of the Crown Jewels and it wouldn't work round my daughter's nursery hours. I hope, hope, hope they do another one next year - and if so that they turn the sodding conveyor-belt off so you can look properly!
Another date for your diary if you like jewellery from the 1500/1600's is going to be the Cheapside Hoard exhibition at the Museum of London in 2 years time. I was there last week partly to oggle the few pieces on display/entertain the wee one and bumped into the CEO of Gem-A who had just spent oh such a boring afternoon 'playing' with the pieces under a microscope

- I'm offering to be the loupe-carrier next time. Can't wait to see the exhibition.