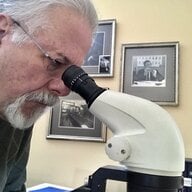 Joined

Sep 3, 2000
Messages

6,397
Karl K asked this concerning fancy shape outline preferences:

"What is the proper outline?
You opinion may be vastly different than mine.
I prefer the looks of wide short pears, others may like long skinny ones, some may like them in between.
Who is right? Who has the authority to say one outline is better than the other?"

Dealers have no "right per se" on any specific preference for shaping outlines, but they do have general and widespread ranges of what they prefer to put into stock and which shape outlines they personally prefer to invest in. GIA does not promote any particular shaping and they do not invest in diamond inventories, nor do they really teach much about outline shape preferences. Everyone says it is up to the end-user in many respects. However, if dealers are shown diamonds to buy they invariably select ones they prefer the shape of and haggle more over those which they do not prefer so much. The ones they do not like at all, they won't buy. IT IS THEIR RIGHT TO DECIDE NOT TO BUY and that is highly important knowledge for consumers to understand. When you purchase an odd shape or a diamond with what dealers tend to not prefer, you are buying a less salable commodity in the event you ever wish to sell. There is no harm in training your eyes to spot shaping issues which can later make selling more problematic or the value somewhat less than expected can be prevented by the proper selection process when buying. It is the only time YOU can make that decision, never later on without recutting and absorbing the risks associated. Beyond communication of outline preference, the Shape Selector tool is a training too for consumer use. It is not a design tool or put there to force anyone to adopt any set idea of shape preference other than what the diamond trade generally tends to prefer to put into inventory. Consumers need to grasp the concept that attractiveness of shape is not simply their personal preference, but that attractiveness of shape is a component of value and desirability in the market for diamonds. By seeing how an outline of various shapes can be grossly or slightly altered and how that has an effect on looks, one can better prepare to buy a diamond without problems of outline that expert eyes readily detect automatically. Everyone eventually understands that any "problem" with a diamond has the potential to alter marketability and value. The only time to address this is at the time of purchase.

I hope this clears the air on the reason for learning about fancy shape outline preferences without forcing any specific shape down anyone's throat. Dealers will gladly sell you any shape you pick while promoting the idea there are no rules about what makes a best shape, but they would argue over price or not even buy what they believe is a badly shaped diamond. This is why we need to be more transparent.