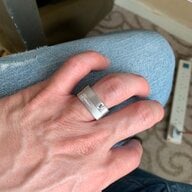 Joined

Sep 11, 2012
Messages

3,415
It is finally done!!!
My partner is 40 in a few months and we recently celebrated out 10yr anniversary. So, it calls for a very special gift. It has been an exciting journey for both of us to date. We are so humbled at the experiences that we have had and most thankful of the support that we planned out family. We now have 2 beautiful daughters (5 &2.5). I have started their jewelry box already! Never too young, I say!!!
Any way, I digress...
My DH always wanted an ID bracelet. He is rather special....so, I thought why not a blue diamond. A fellow PSer had one for sale and before you know it- I have it. Thanx justginger!!!

It is a 0.11ct Fancy Intense Blue diamond.
Next was to search for an ID bracelet. Now these are not easy to find as they are not as popular as they once were. Therefore finding someone to make one was rather challenging. Lots of research and someone pointed me to Diamonds by Lauren. David showed me a pic of what his bench could do and I was sold. After more research into the final design of the bracelet, I told David - let do this!!!!
The pics arrived and I was in awe. I just couldn't wait to feel and see it. When I received the FedEx package- I could not rip it open fast enough. This bracelet is AMAZING. It is silky smooth to the touch.. It is just lux... Silky smooth is how I still describe this metal bracelet.. I hit jackpot. The feel is just pure luxe....
Then it was off to my local jeweler to have it engraved and the diamond set. I just picked it up and really happy... I can't wait to give this to my DH.
i must thank Susimoo for her guidance and keeping me to task... MWAH!!
Ok now for the pics....