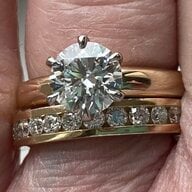 Joined

Feb 27, 2007
Messages

25,251
Happy Equinox - okay it's tomorrow morning but I plan to be sleeping when it occurs at 5:06 AM ET tomorrow morning. As Sharon mentioned yesterday fall is such a beautiful time of the year. The leaves are turning because, rich colors, the weather is cooling down but still very decent. My favorite style of clothes are in the stores - jumpers, sweaters, jackets. All warm and comfy clothes for me.
Summer is often a busy time of year and while it offers us all a chance to get outdoors and put in some time exercising, it also is full of picnics, trips and special occasions which of course generally involve food and or alcohol that can derail our good intentions to make wise food choices and burn off a few extra calories.
The farmer's markets are full of great produce this time of year. My favorite fruit is plentiful right now - yummy peaches. I usually only buy a few at a time because if they aren't very good I usually don't eat them. The cooler temperatures makes our morning or evening runs / jogs or walks a lot easier on our bodies.
Also, it's not a bad idea to revisit our goals so we can be ready to handle the holidays. Halloween candy is already out and I sure love candy corn. What I do if I break down and buy a bag of candy corn is I'll have some and take it to work the next day to get rid of it. I usually find if I go ahead and eat what I want but in moderation I won't self destruct tomorrow and eat everything in sight.
So are you ready for a new season? Are you going to make any changes in your dietary intake and or exercise? I think I need to revisit a food journal and tracking food. I am going to go back to only one glass of wine instead of two when we go out to supper and get out for some lovely evening walks.
Take care.

Marcy