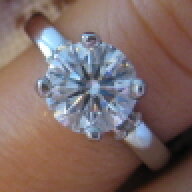 Joined

Aug 18, 2008
Messages

271
I am in the process of buying my wedding band and have narrowed it down to a channel set eternity ring of about 2.4mm with .50ct weight (i love the look of the smaller diamonds in an eternity channel and also prefer thinner vs. thicker edges on the side...so delicate!) OR the Memoire petit prong set eternity in 1ct weight.
I am going to eyeball the memoire petit prong set this weekend alongside a channel set, so I can make my final decision between the two.
If I go with the channel set, I have looked at Facet''s eternity channel sets and also Sasha Primak''s. I will attach pics. I have heard lots of reviews of signed pieces/facets on this site but can''t find anything on Sasha Primak (I have only just learned of this designer myself). The Sasha Primak''s channel band is slightly more expensive and I am wondering if anyone here has any opinion on getting a channel set through SP/facets vs. Sasha Primak. Would S.Primak''s be of better quality make (the diamonds, themselves, are essentially the same quality). I have seen neither in person and will no be able to prior to ordering.
Thanks!
Bright.
here''s Sasha Primak''s photo: