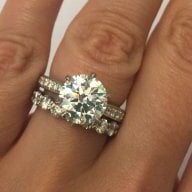 Joined

Apr 28, 2014
Messages

4,011
Hello everyone! I'm hoping you experts could give me your thoughts on the following stone and images. I don't want to sway anyone with my own thoughts, but I have seen the stone in person and it is beautiful and eye-clean (except at very close distances, which I think I'm fine with) but I'd really like to get opinions on the cut.
Without giving up too much information...
GIA XXX
Color: H
Clarity: SI1
T: 56
D: 61.4
CA: 34
PA: 40.8
However, the Sarine report also confirms this diamond would score an AGS 000.
I know this isn't a super ideal cut, but like many before me, I'm wondering whether I will be able to tell a difference in person. Sometimes I wish an expert could come with and view the stone with their experienced eyes and tell me what they think!!! I really appreciate all of your advice so please give it to me straight! Thank you so much in advance!!