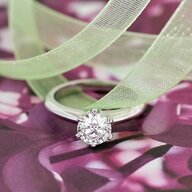 Joined

Feb 20, 2020
Messages

2
For those interested in super-cut diamonds, I want to share an incredible experience I recently had with High Performance Diamonds. My base requirements were fairly straight forward: diamond solitaire engagement ring, Vatche U-113 in platinum, super-cut caliber diamond over 1 ct with D-G color, VS2 or better clarity. The challenge: I'm an expat abroad and wanted to make this purchase of a lifetime on a sudden two-week trip back home to the USA ... with only one week lead time before the trip.

I sent emails out to High Performance Diamonds as well as some of their competitors. I was pleased to get a response almost immediately from Layla Rezvan at HPD. She advised that of the three diamonds I was looking at, one was in the USA, one in transit from Belgium, and the third nearing completion in Belgium. Also, she shared that the normal lead time for the Vatche U-113 was three weeks (their New York Classic was six weeks). However, she put the one local diamond on hold and promised to look at getting the Vatche U-113 completed in time. I responded with questions about the posted AGS specifications, along with the possibility of looking at the ASET image. Layla was traveling at that moment and the owner, Wink Jones, immediately answered my questions and promised to take and post the ASET image in under 24 hours. Wow, what a response and commitment to someone who had not even placed an order yet, and was making inquiries from half way around the world.

HPD assured me that my timeline could be met. They sent the diamond off to Vatche while I struggled with getting a wire transfer done from my USA bank while abroad (this is much harder than it sounds). The diamond was delivered FedEx with five days to spare before my return flight to Asia. The packaging was incredible. HPD provided a jeweler's loupe, ASET viewer, cleaner, and more all carefully packaged.

The happy ending: I presented the ring to my (now) fiancée on Valentine's Day. In tears, her answer to my question was "yes". I will be forever grateful to the staff at High Performance Diamonds for making this happen. Oh, their competition has not yet responded to my initial emails.