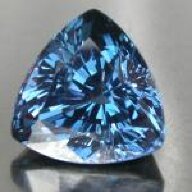 Joined

Apr 28, 2012
Messages

211
In 2006, I found some great looking African Hiddenites from an online Thai dealer that I had bought from at least once before, and he had recently been getting these Hiddenites in stock for the first time that I had ever seen. He had several of them ranging from approx 9cts to approx 38cts. So I bought a 33ct Hiddenite from them, and when I received it, it looked a little lighter than in the advert pictures. This dealer always showed his stones using video on a turntable most of the time, as well as pictures from different angles.
Aside from the lighter color, I was happy with the stone. It was very clean, bright, and I liked the color. I found a large gem box to store it, because my standard gem boxes were too small(you can see some in the background in the photos). Then I stored my collection in the usual place where there is darkness. I brought out the collection just about every day to look at the new stone and others. But then I quickly began noticing that the Hiddenite appeared to be lighter in color than before. At first I thought it was just an illusion, but it became more obvious as the days past. Then after about 2 weeks or so, the color was much lighter, although you could still see the green in the stone. Its box didnt fit into either of my frames, so I kept it separate, and I didnt look at it for about a month or two because I was disappointed. Time went by, and eventually I brought it out again and by this time there was really no longer any hint of green tint left in the stone!
Here are the pictures shortly after buying it, as these are the only pictures I had taken of this stone. I also included pictures taken just a few weeks ago of that same stone. Amazing the difference huh?
BTW: in the earlier pictures, in separate gem boxes in the case that the larger box is sitting on you can see a radiant emerald cut Tourmaline to the left of the box, a pink Spinel to the right, and 2 Rhodolites and another Tourmaline above it. You can see the corner of a box containing a matched pair of yellow Beryls. The stones in the box with the Hiddenite are a dark-ish blue Spinel and 2 Kunzites.
Here are the before and after pics of the Hiddenite.....