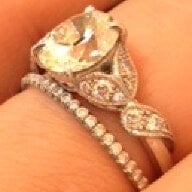 Joined

Feb 17, 2007
Messages

14,167
So we have been working with a wonderful vendor who has found us a gorgeous diamond, which I will see in person and decide for sure on tomorrow. Barring anything crazy, we plan on purchasing the diamond from the vendor we have been working with.

The problem comes in with the setting. Our vendor can get us the one we want (but it is not something he stocks) and gave us what we thought was a competitive price for it. Wanting to make SURE it was the one I wanted, I went to a local B&M this weekend to try it on. Being polite, I took the man''s card after I tried it on and noticed that he had written down the details and price on the back. It was $500 LESS than the price that our vendor quoted us. Same thing, same metal, my size and the correct size for my diamond.

I left, a bit puzzled, and called back today to make sure he hadn''t quoted the price for WG instead of plat. He said that the setting has been in his shop for awhile because the setting hasn''t been popular in the area (the jewelry shop is in a yellow gold and marquise type of town and the setting is plat. and pave), and that he doesn''t raise prices and that the setting had been priced when plat. was cheaper, hence the much cheaper price. He also said he would be happy to set our stone in it, free, and that his insurance would cover it while it was being set.

What do we do??? Considering our entire budget is less than $5,000, $500 is a significant amount for us. Is it rude to let our vendor know that we would love to purchase the setting from him, and then ask him if he can work with us? Even meeting us halfway would be fine...I just don''t know what to do. I feel badly not buying the setting from him after he has been so nice and knows that we were thinking about buying it from him.

Suggestions?