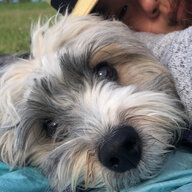 Joined

Jul 7, 2020
Messages

15
Hi PSers!
I posted about this blue-purple sapphire I recently purchased from Gary Braun at Finewater Gems in the vendor & owner pics thread and based on
@voce
's recommendations I am starting a thread to chronicle my engagement ring design journey and get opinions from the knowledgeable PSers here.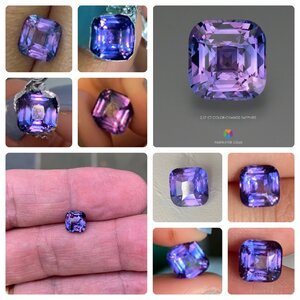 The sapphire is square with rounded corners (The AGL brief calls it a modified cushion cut) with a step-cut pavilion that is noticeable in person. The face measures about 7x7mm and my ring size is a 5.75. I had a few thoughts on a ring setting but would love to get some opinions on the direction I'm heading.
Things I'm contemplating:
- A vintage/Art Deco inspired setting to play off the step-cuts and square-ish shape of the sapphire
- A platinum ring (I have metal allergies!
)
- A 5 stone ring with bezel set tapered diamond baguettes flanking the immediate sides of the sapphire followed by bezel set round diamonds. I like the vibe of this Leon Mege setting but was thinking of replacing the marquises with tapered diamond baguettes and maybe a pointed triangle detail at the narrow end of the baguettes. Thoughts?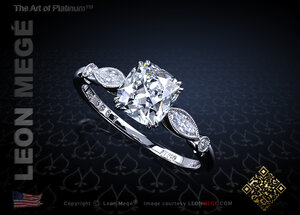 - I want something classic but with a twist and don't want to draw too much attention to myself/the ring
Additional Questions:
1) There is a small window that actually is more visible in photos than it is in person. I'm wondering if I should choosing a ring setting like a prong or closed gallery to try and get a bit more light reflected back through the middle? I don't have any other experiences with setting gemstones as this is also my first fine piece of jewelry so I greatly welcome some expertise on this!
2) I have also been thinking about potentially going the halo direction but am not sure if that'll darken the stone too much or what might match the step-cuts. I want something that will highlight the center stone well and thought that having diamond tapered baguettes on the shoulders would allow the stone's color to pop more while also drawing the eye to the center stone.
3) What do I do about the profile of the ring?! I would love to have some kind of special detail but keep the setting fairly low profile. The profile of the Leon Mege ring looks like this so I've been thinking about ways to add a geometric or architectural element (in keeping with the Art Deco inspiration) to maybe the basket/prong and/or some hand engraving along the front/back. I feel like the possibilities are endless and I'd love to hear your ideas!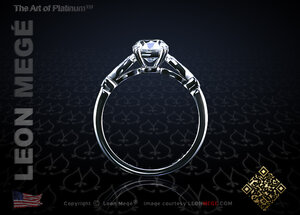 Thanks everyone!