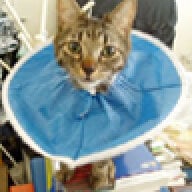 Joined

Feb 15, 2007
Messages

13,166
I''m so sorry this is going on, Mere. I''m glad you came here to talk it out though, sweetie, you need to be able to talk to somebody about it.

I would want to know what was said in those text messages, but I would only be able to read them if I was prepared to deal with what was written in them. For me, in my relationship, it would not be okay for my SO to text message *any* woman repeatedly, drunk or sober, at home or in Vegas. If I didn''t know what was said it would eat away at me and I would never be able to trust him again.

The fact that he''s upset that you looked up the times of the texts is bizarre to me--his behavior led you to not trust him, and looking up the texts was a consequence of that behavior.

What do you need to know to feel like you can move on and trust your FI? Do *you* need to see the texts? Will your imagination run wild if you don''t? OR, will you be better not seeing them? Think about both scenarios and figure out what would work best for you.

As for the issue of him not trusting you to trust him if you look up the texts, he should really be the one to print the messages out for you and *give* them to you if you''d like to read them, in my opinion.

Mere, you will get through this. You will be okay. We''re here for you if you need to "talk."