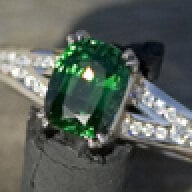 Joined

Aug 3, 2006
Messages

9,613
Date:

3/24/2009 8:43:30 PM

Author:

LovingDiamonds

And there was me thinking ''I NEEEEEEEED an OMC to add to my collection'' and all along, under my nose, I had two lovely ones! Note to self - check jewellery more thoroughly!!!

Oooops just seen your post OMC - I agree the absence of an assay hallmark is strange. I wondered about that. It''s definitely platinum and the original shank. You may be right about the date because it fits with my original estimate (give or take) but what would the hallmarks be then? I have a hunch that the PLAT may have been put on later. It''s in a completely different depth, script to everything else. I don''t know why this may have been done but certainly the others look like they were put on at the same time. I also have a vague memory that this ring was designed by my grandfather for my grandmother and was a bespoke piece - maybe that might be why there''s an absence of ''proper'' hallmarks?

I have spoken with Eric before on another ring and he was incredibly helpful - I think he also works in Birmingham but I may be wrong. It''s a great suggestion to contact him. Thank you.
Hi LD,
That is a gorgeous emerald - as fine as anything I''ve seen (Leon Mege has one a little similar on his site at the moment).