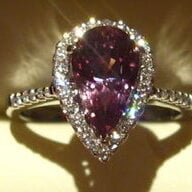 Joined

Jun 29, 2008
Messages

10,224
How can you tell the difference between a Colombian and a Siberian Emerald? My understanding is that a good Siberian can rival the best Colombians. Is there a definitive way to tell the difference? Can lab testing help?
The reason I''m asking is that I have the most wonderful 1.5ct Emerald, inherited through the family. It''s virtually inclusion free and was assessed/valued by an independent trustworthy valuer as being the real deal (before I get question of "is it synthetic" etc

). However, it was assumed that it was Colombian BUT I have a very very very vague memory of my Mother mentioning Siberian. I may well be remembering incorrectly but .............
Any help, pointers would be appreciated!