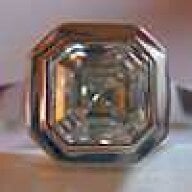 Joined

Mar 2, 2004
Messages

10,100
So, I'm really, really hoping my sister hasn't found this site, yet - because I need some help finding a .50 ct. EC that will look gorgeous set E/W. I have seen some with really heavily clipped corners that just don't look so great when viewed east-west, and this is extremely important to the setting.

Also, here is what I know of the setting.

1. Emerald cut set east - west, bewteen .45 and .65, anywhere from a D-H, VVS1-VS2.
2. She wants it bezel set, but I'm out of ideas other than a traditional half bezel - my creative juices have dried up! I know she wants platinum of white gold, but probably platinum. She has a size 4.5 finger, so diamond finger coverage isn't too bad with that size EC.
3. What do you guys think about a .15 ct. step cut traps bezel set along-side the EC?

If I could ask of some guidance of you fine people, I would be very, very, very appreciative!