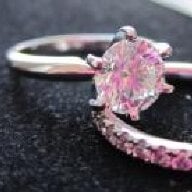 Joined

Apr 28, 2011
Messages

509
I don't know if this has been brought up before but I saw quite a few threads (including the one Liberty recently posted) that EGL graded stones can be up to few color grades and clarity below the gradings given to the same stone by GIA.

My question is then say a stone is graded D color by EGL and H color by GIA. Then what would EGL grade a stone that was graded D by GIA? EGL can ONLY go up to D. Using some logic (or lack of haha) the ranges that EGL deem D and FL are super large. There can be two stones that were graded D by EGL but one can be a "true" D but another is not (like an H).

Or am I not thinking the right way that the observed trend is actually not moving in a... consistently downward fashion? I talked to a few jewelers about this and they seem to think inconsistency is the bigger problem with EGL gradings more so than the lenient gradings.

This is purely for my personal understanding. I am actually a big AGS fan hahaha.