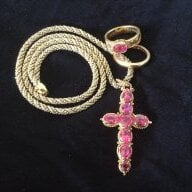 Joined

Sep 23, 2008
Messages

1,478
First, let me thank TL for introducing us all to Tan at Gemburionline and Odysseygem. This set would not be possible without his Mahenge spinels and incredible auctions about a year ago.
Sally has been sitting with these spinels for a long time. Now my sis is getting married, so I felt justified
having this set made. The necklace&earrings has 1+ carat Mahenge spinels, subcarat pinkish red spinels from Gemcal, a few tiny diamonds and a few tiny moonstones (love that stone). Metals are silver and 14k gold.
So this morning, after a postal debacle, I finally got to open the package (my sis is getting married tomorrow). I'm sooooooooo happy. So let's have some pictures now. This is the first.