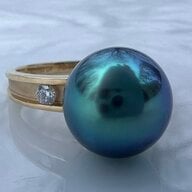 Joined

Jan 14, 2004
Messages

1,432
I browse eBay often for semi-mountings so I was pleasantly surprised when I came across these 3 mountings:
Ring 1
Ring 2
Ring 3
Then I remember having seen these rings recently at a website. Without much efforts, I found the originals of all 3 rings from Knox:
Knox 1
Knox 2
Knox 3
The eBay seller pictures appear to be identical of Knox, only with Knox mark carefully blurred out.
Unless lan.bo4 is an alias of Knox, which I doubt, it simply means that lan.bo4 doesn''t really have these rings to sell but just ''borrowed'' pictures. This is very disturbing and reminded me of the recent story on PS about someone paid for upgrade diamonds but only received single cuts, and myself receiving the wrong ring that values less than I paid for. Again it is proven that this is not an honest seller. Just want to warn the community.
related thread