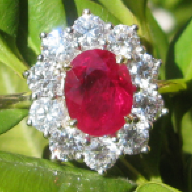 Joined

Aug 15, 2004
Messages

5,537
There have been recent questions about how some of us find such treasures on ebay. The best answer is "search, search, search!" Since I have nothing better to do today, and since I'm trying out some new search configurations, I thought maybe I'd try to be of service.

If you are looking for something specific, go ahead and post you desires here, and I'll attempt to find you some options. Make sure to include size, metal preference, new or pre-loved, budget, and I'll post what I find on here for you.

This is just intended as a constructive way to blow my day, and maybe help a few people find their dreams!