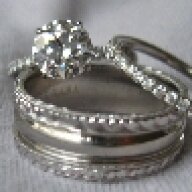 Joined

Sep 5, 2008
Messages

552
After missing out on 2 ebay deals, I finally bought a 0.31ct OEC on a BIN auction. It''s 4.07 - 4.20 x 2.81mm and here are some pictures. The first one is from the seller. The rest are my best attempts which are terrible by PS standard.
I had originally intended it to be set as a bezel pendant but after reading Storm''s advice to use IS (in Coati''s thread), I noticed there''s lots of leakage which I think is understandable due to deep cut. If I don''t bezel it, I find it a little on the small side for my thick neck. As the seller has a return policy, I contact the seller for a return or exchange (he has new stock coming in next weekend). After spending more time with it today, I am a little unsure if I shall return it. It''s actually quite nice for the price I think.
It''s a SI 1 due to the girdle dings. Want to guess the color?
Any thoughts on this OEC? Thanks!