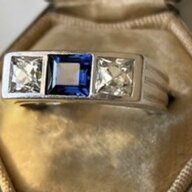 Joined

Jan 3, 2006
Messages

1,237
Hope this is the right forum! I am regretting a purchase I made yesterday and need opinions please! I bought a T&Co Ring on Ebay, have bought other T&Co pieces on Ebay, but not with a certification like this one. This listing did not state that the diamond was laser inscribed and the T&CO Diamond certificate does not state this either.
I emailed the seller but didn't get a response on the laser inscription. At the same time I was also talking to another Ebay seller about a similar ring that they had and I told him via email today that I had found a deal and jumped on it. That other seller said "please make sure the diamond is laser inscribed".

I called my seller this morning and he said that it is not laser inscribed and went on to tell me that laser inscription doesn't really mean much to him and he could inscribe his name on a diamond if he wanted to. And if I want to, go ahead and cancel the transaction.

Well, I can't cancel the transaction because I've already paid. After I got off the phone with him, maybe 30 minutes later I get a "shipment" notification from Ebay! Was this auto generated? He couldn't possibly have printed out a label and got this all set AFTER we talked?
I have sent him emails asking him to cancel the transaction and to please refund me in PayPal- that I cannot do anything on my end. I called both Ebay and PayPal to see if there's anything I can do and there's not.. I just have to wait. He has 10 days to refund me my money..

I realize this was very impulsive.. I thought I was getting a great deal. Is it possible that I'm being paranoid and overreacting? Or is it very possible that the diamond in this ring was swapped out?