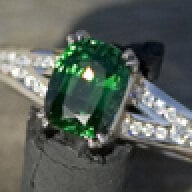 Joined

Aug 3, 2006
Messages

9,613
What might look very pretty with the last setting you posted would be one of those w-bands with the little hammer-set diamonds scattered over it rather than a channel or pave set band. The reason I'd steer away from the pave or bead set is that unless you go custom (and the price is hideous) the diamonds are always from 9 o'clock to 3 o'clock or even higher and so you'll barely see them either side of the e-ring. You really need an 8 o'clock to 4 o'clock to look right IMHO.

I would go with that last setting - btw I got a quote a month ago on that exact setting and it was coming in at around £270 inl. VAT at that time (prices do alter depending on gold-price) - and stick most of the budget into a killer centre stone.

It's no problem for me to look the sapphires over tomorrow (not sure he has any spinels) if he remembers to bring them as we're meeting anyway for a gemmology class. If there is anything great I'll get pics and put it on hold, otherwise you will probably get more of a 'one of a kind' special stone doing it the way you are with a PS vendor.