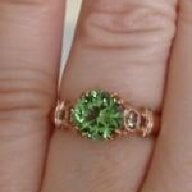 Joined

May 1, 2011
Messages

509
That day has come! - after two months of conversation emails, the first CADs are here!
Quick run-down on components:
18k rose gold, peachy.
The centre stone is the green Barry tourmaline, 8mm, as in my avatar.
The side stones are champagne diamonds, 2.8mm or so:
And the prongs will be split - so 8 in total - and pointy.
Two variants here. I initially wanted bezel-set side stones, but they also sent prong-set too for comparison.
My initial thoughts:
* I'd like the side stones further away from the main stone, a tiny bit. Dan and Caren carefully followed my idea to slightly "tuck" the side stones under the main stone to make them even less prominent, but now I'm thinking it might be crowding the centre stone a bit (and maybe the brown would cloud into the green?)
* I love bezels as a look in general, and rather like having both prong and bezel in one ring: but if there isn't room to set them tucked between the split shank so that they don't sit proud, then I think I prefer the less prominent look of the prong setting.
Cont...