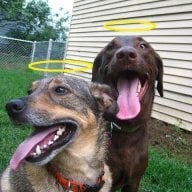 Joined

Nov 16, 2008
Messages

2,512
My husband had back surgery a week ago and has been having complications...his chest became sore and tight when he would lay down and just not feeling good even though his back was much better.

He went to urgent care two days ago and they said everything was fine. He went to a follow up yesterday and they ordered a CAT scan for precautionary measures...and he has blood clots in his lungs.

They admitted him to the hospital and are starting him on blood thinners. If you can spare sone dust and prayers, I would be grateful. He's a healthy otherwise 29 yr old who shouldn't have these problems! Its scary! If anyone has had experience with blood clots in the lungs and it was ok, please let me know, bc im freaked out since this is what my grandma died from just a month ago.

Thanks PS family!