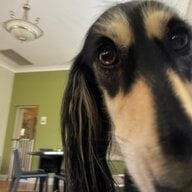 Joined

Jan 22, 2014
Messages

5,216
I love love love my engagement ring, amongst other pieces of jewellery I have and so what I do is "rest them".
For eg, currently I'm not wearing my engagement ring, I don't even look at it. In another week or two I'll get it back out and put it on again and I will love it all over again.
So grab yourself another ring, CZ even, as long as it small and unspectacular, and wear it for a few weeks. Then get your real ring back out and it will seem HUGE and extra beautiful.