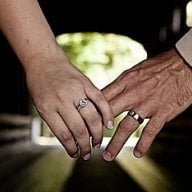 Joined

Jun 19, 2008
Messages

373
I posted last week that I thought I had found my dress. I didn''t LOVE it, but I really liked it and didn''t find anything else that even came close to it. My mom and I went back to the dress shop to order the dress because I had made my decision that it was the one I wanted. While there, they had just put a brand new dress on a mannequin that I started staring at. I decided to try it on and really like it (possibly love). My mom said I looked so happy in it.
Here''s the problem. They are TOTALLY different. This new one is antique and very Grace Kelly- which I love. THe other one is much more modern. If you were holding both of them and asked me which one I like, it would definitly be this new one with lace. However, when on me I think the other one looks a little more flattering (my mom says they both look great and one isn''t better than the other on). So now I can''t decide!! Help!
Here is the thread that has the dress I thought I wanted originally:
https://www.pricescope.com/community/threads/think-i-found-my-dress.107032/
Here is a link to the dress that I found today (I don''t have any pics of me in it because we didn''t go to try any on, just order).
I think it looks so much prettier in person becuase you can see the detail and little sparkle on top and bottom:
http://www.casablancabridal.com/collections/view/18/271
What are your thoughts? HELP!