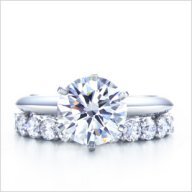 Joined

Dec 19, 2006
Messages

46
Hi There
We looking at purchasing a diamond that has the following details:
Round Brilliant
1.6 Carat
I Colour
VS1 Clarity
Measurements are: 7.48 - 7.58 x 4.61mm
Proportions:
Depth 61.2%
Table 61%
Cutlet None
Girdle Thin to thick, faceted
Finish
Polish Very Good
Symmetry Good
Fluro None
This also comes with a GIA Certificate.
From someone who is more technically sound on these things than I am - is this a good diamond? I sort of didn''t want to go lower that a G Colour - so I guess I want to know how this will show up once it is set.
I''m looking to have it set in Platinum in the traditional ''Tiffany Solataire Setting''
Anyone''s expert opinon is DEFINITELy welcome.
Thank you in advance for you advice
Stef