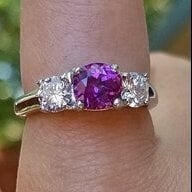 Joined

Sep 11, 2013
Messages

1,584
Thank you! I agree

@AnastasiaBeaverhausen

I just feel the guilt because first I told him no..Then I asked for a video outside which he did. Then I told him yes. I asked him so many questions he didn't think I wanted it so he sent it back. Then I asked him if he was setting it. He said no he sent it back again. I sent him a sad face so he got it back. How would I tell him I don't like it without sounding like a crazy person....If I see a window that bothers me I will put a piece of aluminum foil behind it to mimic the plate

@Dee*Jay

suggested to see if it would make a difference.
I totally hear you on the guilt thing! But I've kept quite a pieces myself that I probably should have returned instead. So nowadays, even though I still feel guilty about returns, I remind myself that I will feel soooo much better afterwards once I find the "right" stone for me.