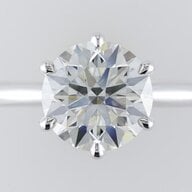 Joined

Apr 29, 2016
Messages

377
My engagement ring had an 85pt stone and I've always hoped for something larger. In the 10 years I've been married this feeling of wanting a larger stone has not gone away, so my husband offered an upgrade for our anniversary.
I felt sentimental about the setting and the jeweler had to rebuild the prongs & was only comfortable going up to about 1.25. I ended up with 1.29 & really love the stone (warmer in color but better clarity and much better cut than before). Sadly though, I'm not sure if this has the presence I was hoping for. Maybe it is the fact that my setting is pretty wide but sometimes the stone doesn't look that much bigger to me than before despite gaining 1mm.
Shrinkage set in so quickly it's crazy! I feel like I had one chance at an upgrade (would probably hurt DH to say that I still want more) and may not have made the right choice. So my question is, while I know this is not large by PS standards, do you think this diamond seems "not small"? Maybe setting it on a thin band or with a halo would help?