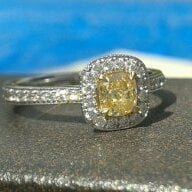 Joined

May 27, 2009
Messages

2,227
I have a tanzanite ring, that I love for sentimental reasons, but rarely wear. One reason I don't wear it much is that it's set in yellow gold, and I usually prefer white gold or silver. Too bad I didn't know 16 years ago, when I chose this ring for my first Mother's Day, that I'd eventually realize that I'm a white metal girl.
Anyway, I was wondering about having the ring rhodium plated. It still won't be an everyday ring, so the plating shouldn't wear off too fast, I hope. But, I was also thinking about how that might effect the blue/purple hue. Actully, the stone leans more toward purple than I would like (again, bought this ring 16 years ago, long before PS) and I was thinking a cooler metal might draw more blue to the eye? Or would it be opposite? or maybe neither?
One more question, is there any reason a tanzanite ring shouldn't be rhodium plated?
Thanks for any help you can give me. I'm going to try to attach a picture of the ring.