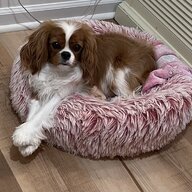 Joined

Aug 12, 2005
Messages

17,938
I am in no way cavalier about this disease. The effects seems to be multi-system and very nasty for some people. I don't want it nor do I think I'll be okay. The crazy things about it - it's such a Russian Roulette effect for some people. I personally know of someone with congestive heart failure, she weights over 400 lbs, is an uncontrolled diabetic. She resides in a nursing home as she is too fragile to live alone. It came through her home and killed people nearby. She just had a cough and no fever four weeks out, and no noticeable lingering effects....why?

Then, we see the young and strong succumb to a terrible disease course. It must have to do with genetics at some level. It's so scattered in response.
@moneymeister
I hear you. I've read multiple articles about populations that
seem immune
to Covid-19, and research into why
some people aren't as affected
as others, i.e. cytokine storms vs mild symptoms and little to no lasting effects. There's even a theory about
blood types
and an increase in acute symptoms and continuing health issues after recovery. We know so little about this virus and can only go by what is predictable so far--that it's highly contagious. I'm shooting for a personal balance of healthy fear and managing my lifestyle in a way that is responsible but also fulfills my emotional and mental needs (and obviously the financial sort).