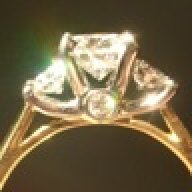 Joined

May 30, 2008
Messages

560
Hey everybody! I''m sorry I haven''t been on here in a while, but things with school got really crazy and things with life in general got really crazy. I''m two weeks away from finishing up my dissertation for my PhD and I''ve gotten two good job offers that I had to think about. Now, after much time and deliberation, I''ve decided to accept a position in Boston starting this summer and I''m moving there with my new FI!!
For those who forgot what the ring looked like, here''s a link to my SMTR thread:
https://www.pricescope.com/community/threads/shameless-bragging-but-i-love-this-ring.88222/
I bought this for her back in June and have been holding it for her since. I almost proposed back in August on the top of Half Dome in Yosemite NP, but that didn''t work out. I''ve been waiting for a good time to propose, and this turned out to be it. Yesterday, Friday the 13th, was our 5 year anniversary. That''s right, our first date was on Friday the 13th and it ended on Valentine''s Day. We live near Chicago, so I told her to get the day off of work and we''d celebrate. I didn''t tell her any of my plans before hand and this was all a surprise. I took her downtown and we went ice skating at Millennium Park on Michigan Ave and then we went for a walk through the park. I found a nice secluded area overlooking Lake Michigan and proposed to her! She said yes (of course), and then we went back to the hotel to get ready for the evening. I had booked us two tickets aboard a Lake Michigan dinner cruise with dinner and dancing and everything. We went on our cruise to celebrate with each other and now I''m letting everybody else know what happened!
I don''t have any hand pics yet, but I''ll get some by tomorrow and post them. I just wanted to stop by and thank everyone here again for all your help and support. This is a great place, and I hope to come by more often now that school is wrapping up.