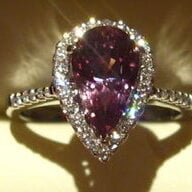 Joined

Jun 29, 2008
Messages

10,227
Date:

3/28/2009 12:53:36 PM

Author:

Gailey

Date:

3/28/2009 10:55:03 AM

Author:

LovingDiamonds

I agree that there is total ignorance about coloured gemstones and people tend to prefer the more traditional diamonds as e-rings. However, that doesn''t annoy me because it means there''s more gorgeous coloured gemstones for us to stalk without too much competition!!!!

When I first started collecting I too was fairly ignorant and believed that garnets were cheap and only came in red

Some of my favourite gemstones are garnets now and I appreciate their beauty!

Ha ha LD. That gives it away - you must be my age!!!!
Are you 21 as well Gailey?