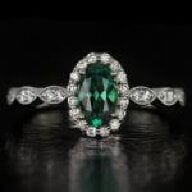 Joined

Apr 13, 2015
Messages

269
A few months ago, I bought pearls for bridesmaids gifts from Pearllunar. They were advertised at 6.8-8mm, but I think they're actually more like 6-7mm. I'm concerned that they are too small for my girls. They are all early 30's or late 20's, and none of them (as far as I know) own a strand of pearls. I'm not sure if the size of the ones I bought truly are too small or if I just think that because my own everyday pearls are 8-8.5mm and I've just gotten used to looking at that size.
Here are the pearls I got the girls: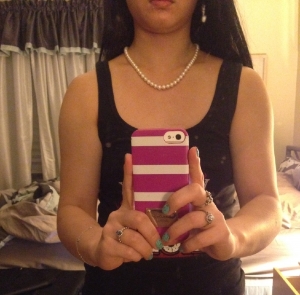 All the girls are short-average height (I think the tallest might be 5'5" or so); 3 out of 4 are slim to average build while one is of a bigger build. What do you think...are these two small for a first strand for someone in their late 20's/early 30's?
This is what I usually wear and what I'm used to seeing: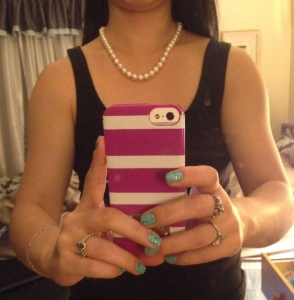 I took a shot wearing the both together, and the smaller ones seem SO small to me!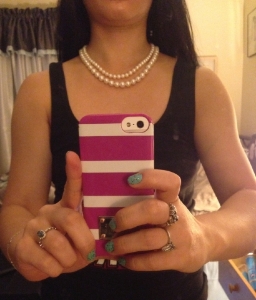 Anyway, I feel like I need an outside perspective on this. Are the pearls I got my bridesmaids really so ridiculously small or am I just too used to seeing bigger pearls? I'm of two minds...part me me thinks I should bite the bullet and get new strands for the girls...something in the 7-8mm range. But the other part of me thinks that maybe it's not as bad as I think it is? I am well past the return period on the strands I already bought (and quite frankly, I wouldn't have wanted to deal with shipping them back to China anyway), so I'm kind of stuck with them. I would use them for future gifts for people, though off the top of my head, I can only think of one or two people I would give a strand to. I also don't REALLY want to spend the money on 4 new strands of pearls...but, I also don't want to give a gift that seems cheap/embarrassing/etc, so I would do it if that's what it comes down to. I love my bridesmaids, and I want them I appreciate them. If it matters at all, I'm also planning on getting them all pearl studs, getting my MOH a pearl bracelet as well, and paying for all my girls to get their hair done. So, with all of that being said, are these OK or should I bite the bullet for bigger pearls?