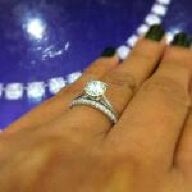 Joined

Feb 27, 2016
Messages

12
I am looking at a SI1 .9 carat RB stone. on GIA report it says ''crystal, cloud, needles''. the website replied to my email saying the stone is eye-clean from top view. They did not comment on color or size of the inclusions and mentioned the following,
    ''The cutter has mentioned on his B2B report that the marks can be seen from the back and the side.They cannot send pictures from the side ect. To have the eye clean from side effect your wife wants is to pick a VS1''
what should I expect from this stone? do you think there will be black spots/ big obvious spots visible from the sides too? or it can be tiny white spots which is not that obvious?