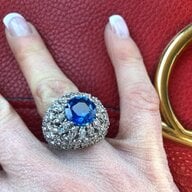 Joined

Dec 25, 2019
Messages

428
Ok Team!
Huddle up because I'm looking for REAL life answers please and this one is totally subjective and case-by-case I know but I'm just trying to get some input.
Do you have more bracelets or rings?
And why?
The reason I'm asking is I am at the point where I really don't "need" more of either.
But have the opportunity to purchase one more important one.
Not both.
So if you had to err on the side of more of one type of jewelry, rings or bracelets, which is it?????
TIA!!!