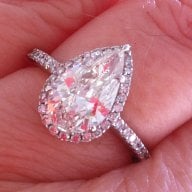 Joined

May 23, 2010
Messages

6,731
I thought this would be kind of a fun, silly thread.
Looking back over the years, I realize that the men I've found attractive all have black hair and blue eyes. The hair is conservatively cut, preferably without facial hair. I also prefer at least six feet tall. Upon reflection, most of my ex-boyfriends looked this way. I think the guy on White Collar (on Netflix) is cute, as well as Riker on Star Trek (he gets a free pass on the beard years, it worked on him).
Luckily, DH fits this bill.

Do you have a "type" of guy that you think is cute?
Does your SO fall into your type?