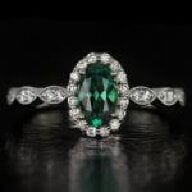 Joined

Apr 13, 2015
Messages

269
Something I've been thinking about quite a bit...do you ever sacrifice quality of a diamond at a certain size or for certain pieces?
Now, obviously PS is a community of diamond/gem/jewelry lovers, and obviously PSers a super knowledgable about these things, so I understand that I'm talking to specific group, but let me try to explain myself a bit. Before PS, I basically knew nothing about nothing. My diamond knowledge pretty much went as far as "that looks pretty" or "wow, that's big". I would have never been someone to buy an e-ring from a mall jeweler, but that's not because I knew enough to know that those diamonds are generally not the best...it's more because for special pieces like an e-ring, I never wanted something that just anyone can pick up at the mall. However, I would have probably still said that a lot of the things sold at mall jewelers are pretty. I still don't know a whole lot, but I'm learning, and at this point, I'm trying to figure out what the best balance of quality vs. budget is for me.
Now, I've always been someone who doesn't care so much about the specs, as long as it is pretty. That being said, the more I learn, the more I care about quality, and herein lies the struggle. For instance, I am strongly considering buying preset diamond studs from
Ritani
that are are .25ctw, I color, and I1 clarity. I'm not color sensitive, but I would probably never consider I1 for a ring...but for studs that are so small and aren't often seen (I wear my hair down most of the time), it seems silly to really try and find the best quality diamonds. But maybe this is the "wrong" frame of mind? For me, I feel like .25ctw studs and maybe .5ctw studs for my second holes are small enough and not generally visible enough that I can sacrifice on things, but when I start thinking this way, I start wondering why don't I just go on eBay and find something super super cheap? I'd like to eventually get 1ctw studs too, but then I feel like those seem big enough that it's worth going for quality.
I'm struggling with this on bracelets too. For a tennis bracelet, while the individual diamonds are relatively small, there's so many of them that I recognize the value of going for quality. But for a different type of bracelet, I struggle. Do I sacrifice in quality because the diamonds are small and few in something like a duty bracelet? And then I start thinking like above...if I'm going to sacrifice, why not just go for something cheap on eBay? Or do I go for quality because a bracelet is a piece that is more visible and something I would personally see on myself often? (As opposed to studs that I would only see in the mirror).
I admit, part of this current struggle I'm currently having is the desire to have certain key pieces within a certain timeline while weighing that against my budget. Basically, I'd love to have studs for my second and third holes by my wedding in October (which, in terms of pieces, would probably be my priorities) and I'd love some kind of diamond bracelet by my wedding as well (certainly not needed, but I would really love it). But then, I'm also paying for a wedding which is an expense in and of itself. Someone said in another post of mine that I don't there is no need to get a complete collection before the wedding, which is absolutely true and good for me to hear! Still, the desire is still there.
So, what do you all do? Do you ever sacrifice in things or do you feel it's important to have quality over any thing, no matter the size of the stone or piece? What about if you plan to replace/upgrade the pieces or not? (For me, whatever I get will likely be things I plan to have forever). How do you balance quality vs budget? I realize, of course, that no one can tell me what to do, but I'd love to hear others' thought process on this!