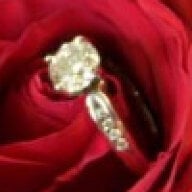 Joined

Apr 28, 2008
Messages

11,523
livannie|1401915907|3686581 said:

I agree with Ilander. Why buy the cow when you can get the milk for free? That's what I have always heard growing up. It may be old fashioned but I really believe it. Once you give everything to a man, why should he marry you when he already has you? I believe in making them work to get you. Nowadays it seems common for people to live together before marriage and while it may be good to get to know eachother better that way, the guy often seems not to want to get married in those situations. My little brother has been living with his girlfriend for 3 years now and has no plans of marrying anytime soon. My husband and I didn't sleep together at all till our wedding night and we got married one year after we met. There is no wrong or right way of doing it but I think making men wait a little is a good thing.
livannie, I don't see anything wrong with making men work/wait. And I don't think it's game playing like Niel said; there's nothing wrong with being busy and not always being available to a guy. But it doesn't always result in a fast proposal. I was hard to get with my DH--I didn't see him all the time, I had other interests/friends/hobbies keeping me busy, I wasn't sleeping with him or moving in with him, and he still needed a kick in the butt to propose finally at 16 months. I basically hinted to him that I would be moving on soon and seeing other men, and that's when he proposed 2 days later. Some guys just move at a turtle's pace.