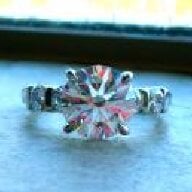 Joined

Mar 15, 2011
Messages

544
Just got my new e-ring (replacement for lost one, not newly engaged). Do you think I need a thin spacer? The girdles of the small sidestones on both rings can rub each other and the rings do spin. Not sure if I am going to get sizing beads put in as I want to see how they fit when it gets hot here in a few weeks before I decide...
Pic for reference: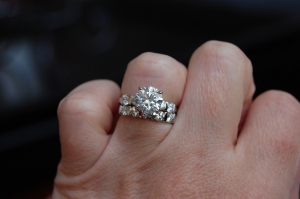 I was going to wear it with my grandmother's wedding band I have, but I think it is thicker than 1mm, gold (my set is platinum), I don't think the antique engraving on it goes with my more modern-style set, and most importantly it is a family heirloom that I don't want getting ruined by the diamonds either, as my sister might want to use it when she eventually gets married. Here's a pic with that one stacked: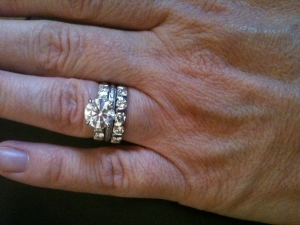 I think I would just get one from etsy in platinum to match my set. What do you think?