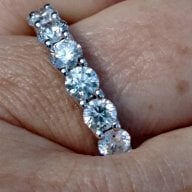 Joined

Dec 17, 2008
Messages

26,008
Hi All,
I received my first set of CADS from David K (so exciting). I'm surprised that he was able to take my hand drawn pictures and turn
them into CADS that are close to what I actually wanted.
The green will be satin finished 14k yellow gold. The rust color will be unplated white gold. The horizontal basket bar will be
either engraved or milgrained depending on what David says he can do.
All comments/suggestions welcomed!
Some things that I'm not sure about...
1) The prongs...not sure if the 4 prongs will protect the point of the pear. Should I add a 5th prong at the point? I was thinking
of doing a triple point prong like Neil did on one of her marquises or maybe a double prong. Is this too much?
2) I was expecting the prongs/horizontal basket bar to be somewhat
like the ring below with the prongs curving over the girdle. Not sure if the CADs are set up to be like that since you can see the rust color around the edge of the pear. Do you think it is designed like the picture below and you can see the
rust just because they are CADs?
3) Do you think the scrolls that go out towards the pointed end of the pear should go out further like in my picture? (Not sure if this is possible or not). Or, do you like the way the CADs are done?
4) By my calculations the overall height is around 6mm. I wonder if it can be made any lower? My current setting is at
about 9mm...very high and I want much lower. Do you think 6mm is low enough or should I go for lower?
I think* that's all the design questions I have (for now). Thanks for your help!
tyty333