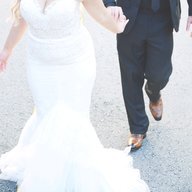 Joined

Apr 5, 2018
Messages

21
Aww thank you so much for the good advice and support! When you're still completely in love and desperately wanting it to work, it's easy to fall for the nice moments, but they never last. Will have to make a post on other board soon, especially about re design of the ring.

It really helps to know I am not the only one going thru this. Thank you again for the kind words and support.
I'm so sorry to hear about your relationship—I know exactly what you are going thru. I was in a toxic relationship with an abusive relationship with a narcissist who was so good at manipulating people no one believed he was abusive until he tried to end my life. I took some time to heal but it wasn't too long before I met my now husband of one year relationship (6 1/2 years)(anniversary is tomorrow) What I'm trying to say is this seems like it's hard now—-But this is the first step closer to your new and better life! Have faith and pray!