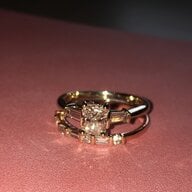 Joined

Mar 7, 2013
Messages

458
What are your thoughts on couples who believe this "popular" mantra "Divorce is not an option/We don't believe in Divorce."
I have met a few, self-righteous couples who constantly allude to this. Granted, they appear very happily married...but nobody really knows about someone's marriage right?
My husband is one of the "rare" (I guess) men who believes in this. He says there are no divorces in his family, people stay together "til death do they part." He also said one of the things that solidified marriage to him was "NO divorce" even in the worst of times...interesting right? My husband said that unless there is abuse there should be no divorce (he even said "cheating can be worked through")
What are your thoughts on the "divorce is not an option/don't believe in divorce" I think divorce is sad but sometimes necessary...but that's my opinion...
Thoughts? Opinions? Facts? Details?