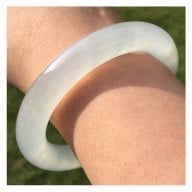 Joined

May 1, 2009
Messages

3,176
Hey, wanted to check what's safe to wear when there is so much disinfectant, hand washing and sanitizer usage right now. Especially when some of the hand sanitizers are alcohol based, and the disinfectants could contain chlorine.

From what I've read, diamonds, sapphires and rubies are fine.

Opals and pearls definitely not.

What about other cs like jadeite, garnets, tourmalines, aquamarines, etc?

Whether we should still wear rings etc when they may have small crevices that are hard to clean is another question... but I'm not used to totally bare hands, so I've been wearing my diamond ring and kept most of my cs rings.

Anyone else changed their jewellery wearing habits?