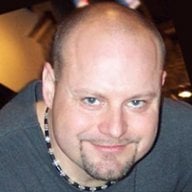 Joined

Sep 9, 2004
Messages

5,212
Date: 1/12/2005 6:34:21 AM
Author: Garry H (Cut Nut)

Rhino overstates them as part of a belief or a commercial strategy - I see less than 5% of otherwise nice stones with small minor facet irritations - and almost never really bad e.g.'s
Garry, I think the "commercial strategy" statement is unfair to Rhino. Truthfully it would be a lot easier for him to do away with the time-consuming efforts and sell low-standard, phony H&A stones using minimal imagery and limited consumer education. His in-depth analysis is motivated by the same passion for understanding diamond beauty as yours or ours is. I applaud him for contributing to the overall knowledge base here.
Brian Gavin
and Paul Slegers are both in the business of working to understand and evolve diamond beauty. Neither of them "overstates" what they observe for commercial strategy and I don't believe Rhino does either.
Thus, I believe "overstates" is to Rhinoceros as "conjecture" is to Oz-man.
The Knight counter-conjectures that Oz-man "overstates" the following...

Author: Garry H (Cut Nut)

I have no beef with the anal approach of Brian and Rhino et al; but they are working in a very rarified area of diamond cut and it is not GIA's or my intent that this be a standard expectation. Even Peter Yantzer from AGS, who might like to buy a super ideal cut for himself because he can truly appreciate the skill and precision that goes into making such a product - does not seek to set such standards for normal commercial grading by providing extra recognition for H&A"s pattern grades. If you ask him why, he say's that there is insufficient evidence to show that a diamond with very nice symmetry is less beautiful than one with perfect symmetry.>>
First, I understand the decision not to provide extra recognition for H&A patterning in normal commercial grading. The market is, as you say, rarified. You constantly rattle this saber (I'm not sure why, since most of us steeped in the particulars of this niche market promote it realistically).
I am curious about the symmetry statement above. If this is the case then why do they even grade symmetry on an AGS report? They should drop it if there is sufficient evidence that it's an oxymoron... Or did I misunderstand? When you refer to Peter Yantzer's symmetry comment do you mean what AGS is grading – which is meet point symmetry - or is he referring to patterning/physical Hearts & Arrows symmetry? Though they are not the same thing they are interdependent: Bad lab graded (meet point) symmetry can exist due to facet yaw, and this will be reflected in the patterning.