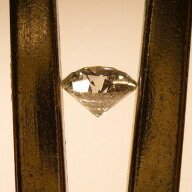 Joined

Feb 19, 2009
Messages

91
Have just taken delivery of my
BlueNile
stone.
I must say I am utterly dissapointed. Stone is SI1 GIA Clarity so I asked
Bluenile
if it was eyeclean to which they replied:
" The jewelers have said that this diamond is 100% eye clean "
I took one look at it and from some 40cm away could see a inclusion! It''s a feather and is reflected around the whole diamond from any side profile.
The inclusion is as visible as the 1.1ct uncertified one that I had a month or so back. The seller told me it was SI clairty but I dismissed it as a "L" clarity as I could see the inclusion so easily.
Should I just give up on SI1 GIA stones? To me, if you can see an inclusion from some 40cm away it puts it into "l" clarity by most definitions on the web that I have read up on.
Is going to cost me some $50 in return shipping and I have lost confidence in
BlueNile
and their version of "100% Eyeclean".