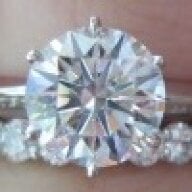 Joined

Jan 29, 2007
Messages

5,497
Hi all, I am currently ordering a shared-prong eternity band through a vendor, and for my ring size, I have received some quotes that are now not making sense to me.

For a 1.5 ct band made with 5 pointers, I was quoted $2050.

For a 1.8 ct band made with 9 pointers, I was quoted $2995.

That all makes sense, but then I decided that I wanted to go down to a smaller size.

For a 1.6 ct band made with 8 pointers, I was quoted $2995, the exact same price as a band 20 points larger.

The vendor is trying to convince me that there should not be a price difference between a 1.6 cttw band and 1.8 cttw band in the same finger size. I said that if that is the case, how come a 2.0 ct band costs more than a 1.8 ct band from that same vendor. That''s also a 20 point difference, isn''t it?

Am I missing something here? It seems that a lower carat weight band in the same metal, same stone quality, same finger size should cost a little less.

Any responses from professionals would be helpful.

Thanks!