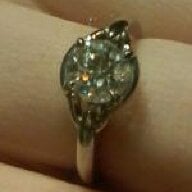 Joined

Aug 31, 2009
Messages

1,199
Hey ladies...

So, in an attempt to save money, paper, and effort (to be honest), FI and I are discussing doing digital STDates or invites instead of paper. We're conflicted - he thinks people like to have a Save the Date they can put on the fridge in some form or another, something to hold on to as a hard reminder of the wedding. I think you can't do a paper STDate and then a digital invite, that it's weird, but you could do a digital STDate and a paper invite.

One of my bridesmaids is a graphic designer and she's offered to design all our paper products no matter what, which helps. She's make a gorgeous digital Save the Date if we went that way. No matter what, I think we're going to do digital RSVP-ing with a wedsite, which will save money and paper.

I never really wanted to have a wedding invite of ours to frame or anything like that, so that doesn't really factor in for me, and we would print invites for the older folks (just my grandmother's friends) who don't have email.

What are your thoughts on digital paper products? Too informal (we're having an evening backyard wedding at my aunt's home in the mountains, so it isn't a super fancy wedding to begin with)? One of those modern conveniences that never should have gained a foothold? Or, a great way to save time, money, and paper and no one will really miss them? And, while I'm at it, digital rsvps (with a good proven system!) - good, bad, ugly, awful, tacky, the best thing ever?

edited to not say "the emails" like its "the interwebs", or something.