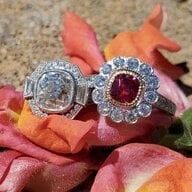 Joined

Aug 22, 2012
Messages

7,329
Third time is the charm right? I would like to get your thoughts from those who have been in the same predicament. My 2.20 GIA L VS1 antique cushion has been in two settings so far and it is still not right for me. Ugh.
First a halo that was gorgeous but really too much for my lifestyle and taste once I had it on my finger. It was really top heavy and hung over like a ginormous Hollywood celebrity ring - even though it was not by far!
Now it is in an antique style crown setting with french cuts down the shank. I love the ring but there is a gap that I did not know would bother me so much and I cannot stack more than 1 band comfortably because of my short fingers. And with my french cut eternity it is too matchy matchy. I have lovely bands that I would like to stack and new ones make great gifts from the hubby in the future! For the french cut setting I would probably have a colored stone cut to set in it.
Sooo - here I am contemplating a Boston Jeff style solitaire with a 2mm shank and slightly tapered shoulders in platinum. I am tired of being unhappy with what should be a joy to put on every morning. This has been an expensive lesson to find what I am happy with and am fearful of doing it again. Those with a solitaire like this does it spin or fall over to the side?
Thank you for responding! Any thoughts from anyone welcomed!
Pics