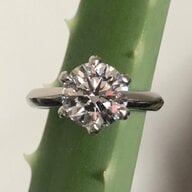 Joined

Sep 30, 2015
Messages

133
I just won a Tiffany shared setting half eternity wedding band (platinum, .27 tcw) on EBay for $1500. The MSRP is $3900. This is the link to the description on the Tiffany site:
http://www.tiffany.com/jewelry/rings/shared-setting-band-ring-GRP00005
The seller has 100% positive reviews and appears to have been a seller of very high end jewelry and watches for at least 2 years. He does not have a glut of inventory and appears to sell a few high end pieces every few months. The auction photographs of the ring looked ok to me. The Tiffany & Co. and PT 950 stamps appear to be in the right places, though the Tiffany & Co. stamp is partially obscured by a sizing bead. I know this would bother some people, but it doesn't bother me so long as the piece is authentic. He guarantees authenticity, so I can return the item if it turns out the ring is fake.
I paid on Friday and expect to get the ring sometime next week. I intend to take the ring to Tiffanys to remove the beads and get sized (1/2 size) and for a retail price update for insurance purposes. I assume that if the ring is fake, Tiffanys will let me know before sizing and will not give me a retail price update.
In the meantime, I am reaching out here to quell my paranoia. I would really be so grateful if I could get some of your thoughts on the photos (below) and your experience with taking pieces purchased from the secondary market to Tiffanys. Also, if anyone owns this ring, can you please post photographs of the stamps so I can compare them?
Thanks so much,
BB.